All the fun/cheap/life changing events happening this week around Beantown just a hop, skip, and a jump from campus!
Wednesday, Oct 28: The Quality of Your Coffee Cup: Third Wave Roasters and the Development of Taste
One of a series of events on coffee, this seminar will focus on a new generation of coffee roasters as well as a new base of consumers with evolving tastes. Special guest Claudia Barrett, founder of Flight Coffee Company, will talk about the development of Flight's process and unique taste, as well as how she grew her own coffee business from scratch. Stick around for networking and free coffee from Flight Coffee Company!
909 Renaissance Park. 2:00 – 3:30 pm.
Free. https://calendar.northeastern.edu/event/the_world_in_your_cup_conversations_on_the_politics_and_culture_of_coffee#.Vi-U1n6rSUk
Thursday, Oct 29: A Night in the Crypts at Old North Church with ONEin3
Let's face it, networking events can be quite the drag, what with the uncomfy business casual get-up and the threat of running out of small talk too soon. Welcome to a different kind of networking, hosted by Boston's leader of the young professional crowd, ONEin3. Networking sounds a lot better when it's done on a private tour of Boston's spookiest crypts and graveyards, doesn't it? Head over to ARTU Trattoria afterwards for drinks and snacks and get to know other students and recent grads looking to make their mark on Boston.
Tour starts at Old North Church, 193 Salem St. 6:00 – 8:00 pm. Free. http://www.eventbrite.com/e/a-night-in-the-crypts-at-old-north-church-with-onein3-tickets-18964465226
Friday, Oct 30: Boston University Pumpkin Drop
You know it has to be pretty great if we're sending you to BU! Put the hockey rivalry on hold until Homecoming and stop by the Boston University Physics Department for their annual Pumpkin Drop! What better way to build camaraderie than by smashing pumpkins together? Each year, students and faculty gather to test gravity's affect on large orange vegetables, often with some rather messy results. Other activities include a costume contest at 12:15 and a prizes to be awarded for guessing the weights of various pumpkins. Plenty of Halloween treats will be provided.
Boston University Physics Department, 590 Commonwealth Av. 12:00 – 1:30 pm. Free. https://www.facebook.com/events/1490187274641935/
Saturday, Oct 31: Boston Community Out of the Darkness Walk
Join the Boston chapter of the American Foundation for Suicide Prevention as they walk to remember and support those affected by suicide. Teams and individual walkers from across the area have spent the summer collecting pledges for their walks, and are over half way to reaching their goal of raising $300,000 for suicide prevention programs and research. Register a walker or show up day-of to help the AFSP reduce suicide by 20% by 2025 and help Boston walk out of darkness!
Artesani Park. 9:00 am – 12:00 pm. Donations of any amount encouraged. http://afsp.donordrive.com/index.cfm?fuseaction=donorDrive.event&eventID=3223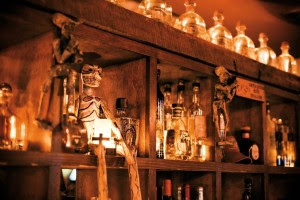 Sunday, Nov 1: El Dia de los Muertos at Besito Mexican
Still blue because Halloween won't come again for another twelve months? Don't worry, the fun's not quite over yet! November 1st is known in Mexico as El Dia de los Muertos, or The Day of the Dead, and is spent honoring ancestors and celebrating loved ones. Acclaimed Mexican restaurant Besito Mexican is ready to get you in the holiday spirit with a day full of music, excellent food, and Dia de los Muertos spirit. The restaurant will be decked out with sugar skulls and altars honoring the dead, with servers educating diners on the history of the holiday. A special menu presents holiday classics like arrachera con camerones, and diners get free samples from the artisanal Mayan chocolatier Casa des Chocolates, as well as a tequila tasting for over-21 guests.
199 Boylston St, Chestnut Hill. 11:00 am – 10:00 pm. Free (plus menu prices for food). http://www.thebostoncalendar.com/events/come-celebrate-the-traditions-of-dia-de-los-muertos-at-besito-mexican
Monday, Nov 2: Calvin Klein at Harvard Graduate School of Design
If you've ever so much as glanced at a fashion magazine, you've seen Calvin Klein and his iconic designs spread across the pages. This titan of American fashion will be at the Harvard Graduate School of Design to discuss his rise to the top of the fashion world, as well as the amazing scope of his collections that have spanned decades of changing trends and tastes. His expertise is not only in minimalist fashion, but in entrepreneurship as well, as he built a veritable empire from the ground up on intuition alone. Klein's presentation is free and open to the public, so make sure to arrive ahead of time to snag seats!
Piper Auditorium, Gund Hall, 48 Quincy St. 6:30 – 8:00 pm. Free. http://www.gsd.harvard.edu/#/events/calvin-klein.html
Tuesday, Nov 3: People Are the Sky Film Screening 
Join Korean American director Dai Sil Kim-Gibson for a screening of her personal documentary "The People Are the Sky" as she explores the search for home and her notion that people are the sky. After losing her husband, Kim-Gibson made a pilgrimage to her place of birth in North Korea for the first time in nearly 70 years to discover where she feels her home really is. The screening will be followed by a discussion with Kim-Gibson and Bishop Hee-Soo Jung, Bishop of the North Central Jurisdiction of the United Methodist Church, and will culminate in a 7:30 pm reception.
George Sherman Union Auditorium, 775 Commonwealth Ave. 5:00 – 8:30 pm. Free. http://www.bu.edu/sth/2015/10/09/a-journey-to-north-korea/